Wildlife management, survival techniques and firearms
Bear Scare Safety Instructors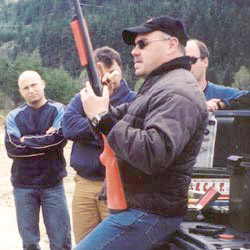 Dan LeGrandeur is the president and chief instructor at Bear Scare Ltd. He has more than 25 years field experience working with bears and other wildlife, first as a Conservation Officer in British Columbia, then as the creator of Bear Scare Ltd. and through his work as an educator, training others in techniques for safely co-existing with bears and other wildlife.
Dan's experiences with wildlife actually began when in the late 1980's when he started as a Conservation Officer. By studying bears, learning about their behaviour and why they act the way they do, Dan developed a technique for non-lethal bear management, which basically involves presenting yourself as the 'baddest bear' during a bear encounter.
During his time as a B.C. Conservation Officer, Dan worked in a wide range of environments, ranging from the urban areas of North and West Vancouver to the coastal and rural areas of southwestern B.C. Dan also gained extensive experience in dealing with a wide variety of conflict situations involving cougars, black bears and grizzlies in farming/ranching, remote work camps, recreational situations and even urban areas. Dan is also a qualified firearms instructor and has considerable experience conducting training courses and public speaking.
Dan was a member of Whistler's Black Bear Task Team and in 1999, he implemented Canada's first non/lethal bear management program in Whistler. Dan was a guest speaker at the 2003 New Jersey Black Bear Conference and testified at the New Jersey State Senate Environmental Commission Hearings regarding human/bear conflicts.
---
Steve Sandahl acquired a vast array of experiences and technical skills during 30 plus years with the Canadian Forces. He is an expert in mountaineering, caving, technical rescue and survival and has passed on his knowledge and skills while working as an instructor/trainer and expedition leader, both nationally and internationally. While with the Canadian Forces, he was a senior instructor for all mountain and arctic survival training, including mountain, cave and arctic rescue incidents.
Steve also has an extensive background in everything firearms-related and has represented various local, provincial and federal agencies as a specialist on surveillance, security and investigative assignments.
---
Mitch C. Kendall is the head firearms instructor for Bear Scare. He has trained in firearms with the RCMP and the Canadian Military and is the provincial COS lead for firearms armouring. Mitch is currently employed as a conservation officer in the Commercial Environmental Investigations unit and has worked at several posts in B.C. and Alberta, where he gained a lot of experience in problem wildlife response.
Along with his regular duties, Mitch has been part of a team tasked with providing firearms training to new recruits at the Western Conservation Law Enforcement Academy in Hinton, Alberta. He also oversees the armouring of firearms issued to officers in B.C. and conducts annual qualification shoots and training exercises. Mitch also worked for a time as an RCMP officer. Over the years he has had opportunity to work closely with the First Nations and helping band members work with the Ministry of Environment and Forests.
As part of his education, Mitch has completed many courses related to his current work with firearms and wildlife awareness and training, including: RCMP Coaches Course, RCMP Basic Firearms Instructor, Conservation Officer Service Firearms Instructor, Glock Armourers Course and Recertification, Alberta Hunter Education Instructor Certificate and Conservation Outdoor Education Instructor.
---
Brett Cooper is a qualified PAL instructor, hunter education instructor and certified teacher who enjoys teaching survival training to all age groups. He is currently a high school administrator, with 21 years teaching experience.
Brett also has 17 years experience as a volunteer fire fighter in northern British Columbia and Alberta. Currently, he is a captain at the Westlock Fire Department.
Brett has been a bear monitor, a bear awareness instructor and a valuable resource to the Bear Scare team. Brett says working with Bear Scare has been a dream come true, fulfilling his desire to share his knowledge and passion while working in the outdoors.
---
Guy L'Heureux has spent most of his working life travelling throughout western and northern Canada, sharing his expertise on wildlife management and resource law enforcement and working as a conservation officer. He spent two years working with the Government of Nunavut Department of Sustainable Development, Wildlife Branch and several years working for the British Columbia Ministry of Environment as a Resource Enforcement Training officer and a Conservation Officer. Guy joined Bear Scare earlier in 2012 and his vast experience and field of knowledge have been a great addition to the teaching team.