Frequently Asked Questions
What you need to know about Bear Safety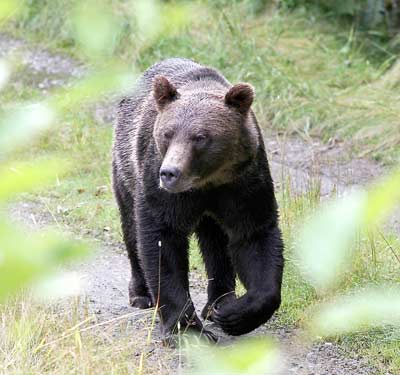 Why do you recommend using bear spray as a deterrent?
Bear spray is the most effective means of repelling an attacking grizzly or black bear in a non-toxic, non-lethal manner. Although common sense might suggest that a gun would provide greater personal protection, research and experience indicate that human-bear encounters that do not involve firearms are less likely to result in injuries to both humans and bears.
In fact, according to a US Fish and Wildlife report, those who use firearms to defend themselves against charging grizzly bears suffer injuries about 50% of the time, while those who use bear spray actually escape injury most of the time or suffer less serious injuries. That is why biologists, professional guides, hikers and campers often carry bearspray in the back country.
Always carry bear spray so that it is readily available to you. If a bear is approaching, use the spray to deter the bear by aiming a 2 second burst into the bear's eyes and nose.
"Even a skilled marksman with steady nerves may have a slim chance of deterring a bear attack with a gun." - US Fish and Wildlife Service.
Bear Spray use and buying guide
---
Q: Where are the courses conducted?

A: The courses are usually held on-site at the client's location of choice. Bear Scare will travel to your location anywhere in North America.



Q: How much do these courses cost?

A: The cost for a course is set per session, not per participant. The cost of each course is different, so please contact Bear Scare for a quote.



Q: What is the minimum or maximum class size?

A: There is no minimum class size, but we do set a maximum of 20 students for a classroom-based course. If you have more than 20 participants who need training, contact Bear Scare to discuss ways we can accommodate you.



Q: What equipment do I need to provide for the classes?

A: Bear Scare provides the projector and lap top. All you need to supply is a suitable room with a screen or adequate wall space to project on.




Working with Dan LeGrandeur and Bear Scare Ltd. was an eye-opening experience for me. In 2011 we literally experienced a 'bear invasion' at our work camps in northern Alberta. More than 20 black bear visits were reported to our Environmental Department during a two-month period ... we needed swift action to protect our staff, clients and customers. In a short period of time, Dan made it happen. Using non-lethal techniques, he and his colleagues managed to deter more than 15 black bears from our camps (while) providing valuable training and advice to our front line workers. Thank you Dan!

~ Taras Senyuta, Environmental Manager PTI Group Inc., Edmonton

The Bear Scare Awareness Training was extremely informative and more than enjoyable to be part of. The situational videos give you a better picture of how to deal with wildlife properly. Dan's training give you more than the necessary tools for assessing any given situation while working in Alberta bear country. I recommend it to anyone considering any wildlife awareness training.

~ Russ Jackson, Supervisor - Lodge Safety Noralta Lodge Ltd., Nisku

Bear Scare Ltd. provides some of the best wildlife training in the industry. With reliable and comprehensive training, Bear Scare Ltd. is the best choice for all wildlife training courses.

~ Kai Rasporich ConocoPhillips

Being a Health, Safety and Environmental professional, I was tasked to find a solution for the increasing number of bear encounters our field staff were having. This is when I had the pleasure of being introduced to Dan and his non-lethal deterrent approach to effective bear management. I had what I thought was some good experience with bears, but Dan completely changed the way I thought about bear management. His experience and enthusiasm showed as he walked us through what we had to do immediately and long term to help ... decrease encounters. Dan was able to assist with an assessment of our locations, producing detailed recommendations we were able to put into action. He also provided direct, non-lethal bear management techniques. Basically, he helped the bears understand where not to go. I guess you could say that Dan educated both us and the bears. To watch him work is amazing. In my books, he's the Bear Whisperer.

~ Jason O'Donnell HSE Works, Inc.

The information and education presented by Bear Scare Ltd. has been an invaluable asset in assisting the Oil Sands Developers Group and its membership in their efforts to become Bear Smart. Companies presenting at the workshops often refer to the guidance received by Dan LeGrandeur helping them successfully reduce bear/human interactions. We look forward to working together again in the future.

~ Carol Christian Oil Sands Developers Group